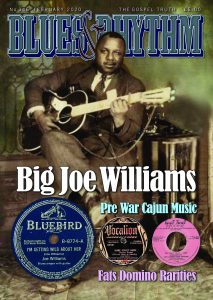 BIG JOE WILLIAMS: First of a great two part interview by D. Thomas Moon with Charlie Musselwhite, Bob Koester and George Mitchell on life on the road with Big Joe Williams.
MORE BIG JOE WILLIAMS: Mike Rowe's historic article on Big Joe's St. Louis acetates.
CAJUN & ZYDECO ESSENTIALS: Ray Templeton's looks at the great accordion players of Cajun music including Joe Falcon and Amédée Breaux
HATTIE BURLESON: Pre war blues history by Michael Corcoran
FATS DOMONO RARITIES: Pete Goldsmith tracks down some of Fats' most obscure and rare recordings.
PLUS: The Blues Discography (3rd edition) Updates and Corrections; Wee Willie Walker; George Chambers; Phil Tricker; Blues Boy Hubbard; Jackie Moore; Jimmy Cavello; Jacques Morgantini; Lucerne Festival; Detroit A Go Go; R. L. Boyce; Gospel CD's; Rare Pre War Blues and Blind Willie McTell; Ralph Willis; Kings Of Baton Rouge. Mike Stephenson's Under The Radar; Chris Bentley's Curiosities.