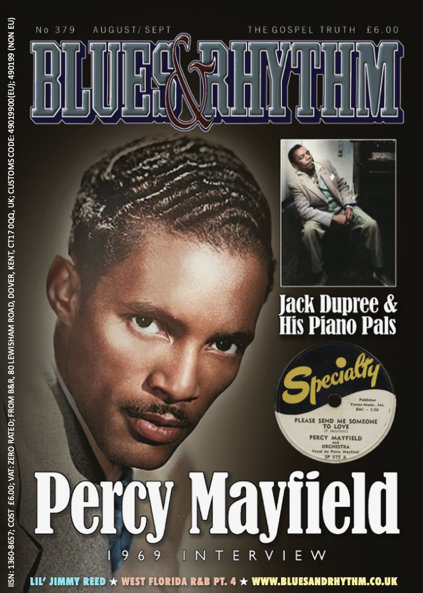 Historic interview with R&B star PERCY MAYFIELD from 1969 by Barret Hansen and Art Rupe.
CHAMPION JACK DUPREE – another historic interview with Jack Dupree from 1968 by David Evans and Marina Bokelman about Jack's piano pals.
Part Four of WEST FLORIDA R&B – A photographic history by Ken Benedict, Steve Gronda and Chris Bentley.
Mike Stephenson interviews LIL JIMMY REED.
TARY OWENS – Field Recordings In Central Texas 1964 – 1966 By Ray Templeton.
CHRIS SMITH's Words, Words, Words.
Blues Youngbloods JACKIRUS SINGLETON by Mike Stephenson.
PLUS: David Dee, Billy 'The Kid' Emerson, Chris Strachwitz, Errol Dixon, Robin Gosden, Arthur Williams, Craig Horton, Shakedown Blues, Wiliam Bell, Mack McCormick's field recordings, Clarence Edwards, Muddy Waters, Frank Motley, Cyril Davies plus all our usual features.