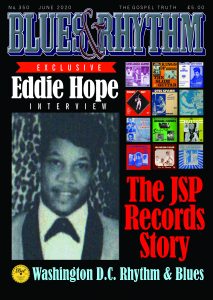 EDDIE HOPE INTERVIEW: B&Rs Dan Kochakian has traced Florida bluesman Eddie Hope who cut two great down-home blues sides for Marlin Record in 1956. Exclusive interview.
THE JSP RECORD STORY: Mike Stephenson interviews JSP boss John Stedman about his label and promotions in part one of a major two part feature including Professor Longhair, Jack Dupree, Buddy Guy, Jimmy Rogers, Left Hand Frank etc.
JOHN LEE HOOKER: 'Documenting The Sensation Recordings 1948 – 1952′. Chris Bentley's detailed review of the brand new Ace Box Set
WASHINGTON D.C.R&B: Jay Bruder's special feature on the history of rhythm and blues in Washington D.C. as a preview to the forthcoming 16 CD box from Bear Family
ZYDECO & CAJUN ESSENTIALS: Ray Templeton looks at cajun and zydeco music in the 1980s including John Delafose, Chris Ardoin and others.
RARE SOUL AND R&B FROM CHICAGO: Robert Pruter continues his historical series – this time focusing on The Dukay's and Gene Chandler.
PLUS: Phil Phillips, Lillian Offitt,  Big George Brock,  Bill Withers, Ellis Marsalis, The Blues Discography (3rd edition) Updates and Corrections; Mike Stephenson's Under The Radar; Chris Bentley's Curiosities; Johnny Fuller, The Staples Singers, B. B. King and much more.