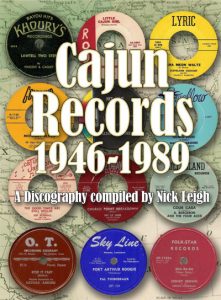 CAJUN RECORDS DISCOGRAPHY 1946 – 1989
A discography compiled by Nick Leigh
This is a new 68 page discography, with introduction by Nick Leigh and foreword by John Broven. It will be updated on a regular basis by Nick.
Click here to download the file (updated) of Nick Leigh's Cajun Records Discography 1946 – 1989.
Updates, corrections, additions and amendments should be sent directly to Nick at nickl6444@yahoo.co.uk
Blues & Rhythm will notify readers in the magazine, and via this website and on Twitter when a new PDF with changes, updates and/or additions is uploaded.