DEE CLARK: Robert Pruter tells the story of one of Chicago's great 1950s & 1960s R&B singers
R&B IN D.C.: Tony Watson special review/feature on the new Bear Family 16 CD Box Set with 350+ page book on the history of Washington D.C. R&B
GOOD READIN' TONIGHT: Ray Templeton's on the books you need for the complete blues library – this issue – Collectors, Writers And Fans
THE GREY GHOST: Tary Owens' historic document on the Texas blues pianist R. T. Williams
NEW YORK CITY BLUES: Chris Bentley reviews the great new book by Larry Simon and edited by John Broven
JOE LOUIS AND ALADDIN RECORDS: Great photo feature by Dan Kochakian of the only Aladdin Sports Series 78 disc.
JOHNNY TUCKER: Interview by Mike Stephenson with this West Coast bluesman
PLUS: The Blues Discography 3rd edition corrections/updates; Letters, News; Mike Stephenson's Young Bluebloods; Warren Storm, Carol Fran, Byther Smith; Wilbert Harrison, Gatemouth Moore, Chuck Berry, Son House, Joe Louis Walker, Little Willie Littlefield & Jack Dupree; Kirk Fletcher in France, US gigs: Melody Angel, Johnny Horton, Mickey Rogers, Bobby Rush.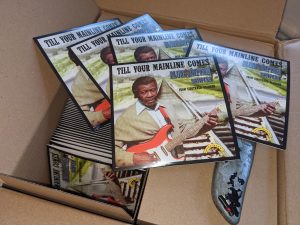 PLUS FREE SAMPLER CD!!! In B&R 364 is a FREE Blues & Rhythm Sampler CD produced with Sidetrack Records featuring 19 sides of rare and previously unissued sides featuring Clarence Edwards, Henry Gray, T Bone Singleton, Cora Jefferson, Louisiana Bob Kirkpatrick & Paul Orta. Great Louisiana and Texas blues sides including live recordings.