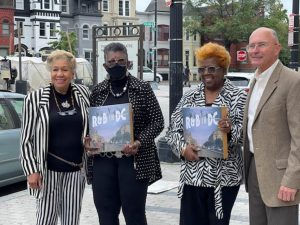 'R&B In D.C.' Box Set News item courtesy Jay Bruder
Click on the link here to see great TV news feature on the 'R&B in D.C. 1940-1960' set from Bear Family. Sandra, Carrie, and Grace of The Jewels kindly came out to support the video session, and even sang a couple songs for the reporter, Mark Segraves.
Sean McDonald and Jontavious Willis cover of Tommy Johnson's "Cool Drink of Water Blues" from 1928 later redone by Howlin' Wolf in 1956 as "I Asked for Water (She Gave Me Gasoline)" . Hope you enjoy our take on the original!

Alabama Black Belt Blues – Excellent New Documentary 
Eastside Kings Festival 2020
from
Renee Dominguez
on
Vimeo
.
B&R's Mike Stephenson really rates Kingfish – so here is another video of him playing Screamin' Jay Hawkins' 'I Put A Spell On You'

Selwyn Birchwood and Kingfish, April 2019 – suggested by Mike Stephenson
From circa 1969 – Fats Domino with The Byrds
Steve Gibson & His Red Caps From 1948 – Suggested by Tony Watson
Wee Willie Walker, Maspalomas, Gran Canaria, 2017 – Suggested by Mike Stephenson

Altered Five Blues Band as suggested by Mike Stephenson
Great R&B from a great band. Still going strong some 30 years after forming.
The great, tragically underrated Little Jimmy Scott on a modern classic, 'Nothing Compares To You' Chosen by Tony Watson
Selwyn Birchwood – 'Guilty Pleasures' chosen by Mike Stephenson
Mr Sipp – Stalking Me' – chosen by Mike Stephenson
Young GA bluesman, 19 year old Jontavious Willis performs Lucy Mae Blues – chosen by Mike Stephenson
Readers and members of the B&R team pick the best of Blues, R&B, Gospel, Doo Wop & Soul YouTube clips. Check this page for regular updates.
Toronzo Cannon Band perform 'The Pain Around Me' Toronzo Cannon – guitar, vocals; unlisted – keyboard; David Forte – bass guitar; Pookie Styx – drums. Filmed in 1080hd at Callahna's Music Hall, January 9th, 2016. Great contemporary blues. Picked by Mike Stephenson
Nino Tempo plays "Horn Rock" from the 1957 film "Bop Girl Goes Calypso," which many people believe to be the highlight of the movie. This was Nino's first film appearance in which he played saxophone…he was 22 years old.
Mickey & Sylvia – Love Is Strange – From the Steve Allen Show, 1950s. Newly discovered and unique film clip sent to us courtesy Simon Evans.
E. J. Mathews Band – Down The Creak – (Ford Pick  Up) – a new band highly recommended by Mike Stephenson.
American Epic Teaser: The new American Epic series will be broadcast on BBC Arena later this year. The films capture the history of American music in beautiful detail. The documentary trilogy is the story of how and why American roots music came to be recorded in the 1920s, and is narrated by Robert Redford. It features some gorgeous restored archive and the music is just phenomenal.
Grandpa Elliott and the Playing for Change Band at the Lake Eden Arts Festival, October, 2010. Thanks to Byron Foulger and Phil Wight.
This rare live footage was posted on YouTube. It was owned by the blues singer Clara McDaniel. Dusty Brown (aka C.W. Triplett) was born in Tralake, Mississippi, on 11th March 1929. He had been in Chicago since 1946, working as a cab driver until he took up music in 1953. Playing in various West Side clubs, he cut his Parrot session on 1st October 1955. The session was the first of his career. Playing blues harp, Brown is supported by Henry Gray on piano, Joe Little on guitar, and drummer Johnny Sturdivant. Brown's next session was for Bandera in 1959. Submitted by Byron Foulger.
KING EDWARD-
Great Mississippi blues man with his band, Natchez, Mississippi circa, 2010. Recommended by Mike Stephenson
THE MEDITATION SINGERS FEATURING LAURA LEE – Jesus Be A Fence All Around Me. Great gospel the way it should be. Thanks to Byron Foulger
MIKE VERNON & THE MIGHTY COMBO – All By Myself. Legendary blues producer Mike Vernon now has his own hot rocking' jump band, which consists of some of the best players the UK has ever produced.
JERRON 'BLIND BOY' PAXTON – Lost My Appetite For Chicken. This is great, Blind Boy nods in Cousin Joe's direction (Check out Joe's 'Chicken A La Blues'. Added by Mike Stephenson
A TRIBUTE TO B. B. KING – B. B. King In Africa – Full 43 minute concert.
STEVE GIBSON & THE RED CAPS – Cow Cow Boogie. Pure madness from this long-lived group. From The Ed Sullivan Show, 1952. Fascinating and essential. Thanks to Fred Goulding.
SONNY BOY WILLIAMSON & ROBERT JR LOCKWOOD – Silent but Fascinating footage of a King Biscuit Show from 1942. Thanks to Nick Amster
LOUIS JORDAN – Ain't Nobody Here But Us Chickens – One of his last filmed performances in 1974 showing that at 68 he was still rocking and socking like crazy. Filmed by French TV. Thanks to Steve Armitage for sending this in.
JACKIE WILSON performing 'She's All Right' on the Shindig show in 1964, accompanied by The Chambers Brothers. What a magical performer!
EDDIE COTTON: My Boo – A Mike Stephenson pick
REV. GARY DAVIS, June, 1967. 25 minute film of the Reverend Gary. Drawn to our attention by Alan Balfour. (1 – 3)
FATS DOMINO – You Can Pack Your Suitcase – Live, France, 1962 – a great long clip of Fats with Roy Montreal, Herb Hardesty, Earl Palmer, Lee Allen and the full Bartholomew band. Sent to us by Bob McGrath
SOUL MAN SAM WITH MILTON HOPKINS, Justine's Brasserie, Austin, Texas, 11th February, 2014. Recommended by Phil Wight. (1 – 3)
Doug Price sent us this wonderful clip of MOTHER WANDA COBBS  playing 'Walk With Me Lord',  Circa 2013. Amazing stuff!
BARBARA LYNN, performing her biggest hit 'You'll Lose A Good Thing' – chosen by Phil Wight. Great colour video (18-01)
SHERWOOD FLEMING & MILTON HOPKINS at Justine's Brasserie, February 11th, 2014 Austin Texas, part of the Eastside Kings Festival. Great performance by blues veteran Sherwood who has a new CD due in 2015 on Dynaflow. (18-01)
RUTH BROWN & B.B. KING 'Ain't Nobody's Business'. From the Blues Summit Concert, 1993, suggested by Robin Gosden. (23-10)
BUDDY GUY AND SON HOUSE, CBS Studios, New York, 1968. Great black and white clip of 'My Black Mama'. (21-10)
BOYD RIVERS AND HIS WIFE RUTH MAY RIVERS perform 'Fire In My Bones' at their home in Canton, Mississippi, 30th August 1978. Chosen by Phil Wight (18-10)  Victoria Spivey, Lonnie Johnson, Sonny Boy Williamson perform 'Black Snake Blues' at the AFBF Tour of 1963 picked by Phil Wight. (18-10)
ROBERT NIGHTHAWK & JOHN LEE GRANDERSON: Nighthawk performs 'Cheating And Lying Blues from 1964 documentary 'And This Is Maxwell Street' accompanied by John Lee Granderson. Seen many times but still amazing says Tony Burke. (13-9)
BOBBY BLAND  Chicago 1981 with Wayne Bennett & Mel Brown – suggested by Mike Stephenson
TOM BALL 'Nagasaki Sails From Uranus' by the Tom Ball Harmonica Orchestra – check it out – it's a bit different! 
BOOZOO CHAVIS – Live version (date not known) of 'Johnny Billy Goat' or 'Johnny Ma Cabrille' sung in Louisiana French Cajun/Creole language with the long time Boozoo bass player, Classie Ballou Jr. Picked by Phil Wight. (14-9)
SUGAR PIE DESANTO  Sugar Pie belies her age with some slick dance moves at the R&B Foundation 2008 Pioneer Awards – a Byron Foulger pick!
JAMES DESHAY Legendary St Louis Bluesman – Byron Foulger's pick!
THE DELLS – The Mighty Mighty Dells, still in great voice, 47 years after they started out! A Tony Watson pick!
JIMMY 'DUCK' HOLMES Live in Bentonia, another Foulger recommendation. 
ARETHA FRANKLIN and SMOKEY ROBINSON – Live on Soul Train – picked by Neil Thompson (18/9/14)
B.B. KING. – B.B. King at North Sea Jazz Festival 1979  'I've Got A Mind To Give Up Living aka All Over Again'
MEMPHIS GOLD Nice acoustic performance from Chester Chandler aka Memphis Gold. 
MEMPHIS GOLD AGAIN . . . 'Catfish Creeper' with Charlie Sayles, and Joe Poppen. Both recommended by Byron Foulger.
RIP LEE PRYOR – Snooky Pryor's son on great form on 'Pitch A Boogie Woogie' & 'Nine Below Zero'. Picked by Phil Wight.
THE RAVENS – Fantastic and rare 1940s footage, including Jimmy Ricks on bass! A Tony Watson pick!
JUNE RICHMOND WITH ROY MILTON'S BAND. Probably made in the late 1940s. Milton's band was a great jump outfit picked by Phil Wight. (13-9)
JAREKUS  SINGLETON – A Mike Stephenson pick!
SONNY TERRY & BROWNIE McGHEE – Key To The Highway, from circa early 1960s introduced by Pete Seeger. Phil Wight's favourite blues duo. (14-9)