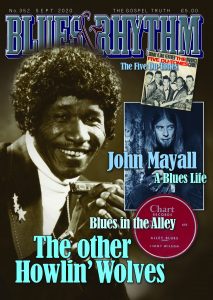 THE LITTLE HOWLIN' WOLVES: : Dave Williams chronicles the various blues artists who have associated themselves with Howling' Wolf including Little Wolf's etc;
JOHN MAYALL – 'A BLUES LIFE': Neil  Slaven previews a forthcoming mega box set on the father of the British blues.
GLORIA JEAN MANOR & THE ROLLETTS:  Tary Owen's interviews Austin R&B bandleader Gloria Jean Manor. Who? Yes, highly obscure stuff – but a great insight into the Austin blues scene in the 1960s.
ZYDECO & CAJUN ESSENTIALS: Ray Templeton's final instalment in this series looks at Cajun and Zydeco music in the UK. Ray will be back in B&R 354 with a brand new series of great writing and research.
THE FIVE DU TONES: More rare Chicago R&B and Soul by Robert Pruter. This time on the 'Shake a Tail Feather' vocal group
BLUES IN THE ALLEY: Peter Moody previews a new box set due soon on blues from Atlanta, Miami and the South Eastern States.
PLUS: Mike Stephenson's Under The Radar; Blues Records 3rd Edition Updates & Corrections; Chris Bentley's Curiosities; Jean DuShon; Gaynel Hodge, Frank Bey, Floyd Lee, Yvonne Baker,  Junior Wells Box Set, Robert Johnson biography, Mojo Buford, The Coasters, The Dubs,  Swamp Dogg and loads more.