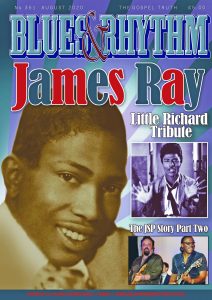 JAMES RAY – THE LOST SOUL MAN: Mike Fenton recalls the short career of the New York based R&B singer – the definitive article on James.
THE JSP STORY PART TWO: Mike Stephenson interviews JSP boss John Stedman about his label and promotions in part two of a major  feature including Larry Garner, Johnny Rawls, Charlie Sayles, Otis Grand, Larry McCray, John R.T. Davies, Box Sets, DVDs, Rembetika and Old Time Music.
ZYDECO & CAJUN ESSENTIALS: Ray Templeton looks at traditional cajun music after the 1960s Newport Festivals  including Dewey and Will Balfa, Marc and Ann Savoy, Michael Doucet and BeauSoleil
LITTLE RICHARD: Full tribute article to the late Little Richard by Specialty Records author Billy Vera
PLUS: Words, Words, Words; The Blues Discography (3rd edition) Updates and Corrections; Mike Stephenson's Under The Radar; Walter Scott, Young Jesse, Big Al Carson  Eddie Cooley, Bobby Lewis, Eli Murray, Mille Small, Earl Green, Jeanette Baker, Betty Wright, Lucky Peterson, Don Bryant, Rene Hall, Johnny 'Guitar' Watson, News, Letters etc.