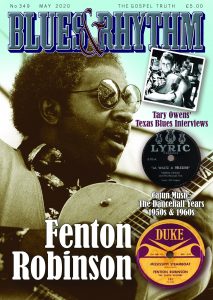 FENTON ROBINSON: Bob Groom's extensive overview of the life and recordings of 'The Mellow Blues Genius' including historic photos and rare label shots.
TARY OWENS TEXAS BLUES INTERVIEWS;   The first historic interviews with Texas blues artists from the late researcher and record company owner Tary Owens.
CAJUN & ZYDECO ESSENTIALS: Ray Templeton's extensive series on cajun and zydeco music features 'The DanceHall Years – 1950s and 1960s including Nathan Abshire, Austin Pitre, Aldu Roger.
PLUS: Words, Words, Words; The Blues Discography (3rd edition) Updates and Corrections; Mike Stephenson's Under The Radar; Chris Bentley's Curiosities; Little Charlie Baty, Broadway Al Trommers; British Blues 1966 – 1971 Box Set  and much more.