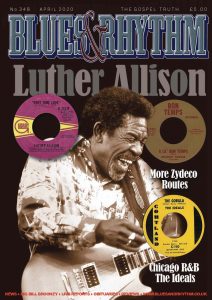 LUTHER ALLISON: Another excellent and historic unpublished interview from the 1990s from the Neil Slaven Archives, this time with Luther Allison who talks about his then new album releases, his time in Chicago in the 1950s with introduction by Bruce Iglauer
THE OTHER BIG JOE WILLIAMS:  Bob Groom looks at the pre war recordings of other artists who called themselves  'Big Joe Williams'.
CRAWFORD JUMP: Chris Smith with some brilliant research into the obscure bluesman 'Cecil Augusta'.
RARE CHICAGO SOUL: Robert Pruter returns with the start of a second series of rare Chicago Soul and R&B with a feature on The Ideals.
CAJUN & ZYDECO ESSENTIALS: Ray Templeton's looks at More Zydeco Routes with Clilfton Chenier, Rockin' Dopsie and Fernest Arcenaux.
BENNY TURNER: Interview with Freddie King's brother and touring bluesman by Mike Stephenson.
BIG BILL BROONZY IN THE UK: Rare photos from the Sam Benjamin Collection from the 1950s
THE BERNARD KLATZKO LETTERS: Eddie England's correspondence with Bernie Klatzko owner of the Herwin reissue label.
PLUS: Doris Duke, Willie Parker, Henry Grey, Ron Thompson;  The Blues Discography (3rd edition) Updates and Corrections; Mike Stephenson's Under The Radar; Chris Bentley's Curiosities; Sam Cooke, The Meters, Rampart Records.