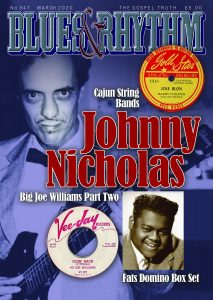 BIG JOE WILLIAMS: Second Part of a great two part interview by D. Thomas Moon with Charlie Musselwhite, Bob Koester and George Mitchell on life on the road with Big Joe Williams.
JOHNNY NICHOLAS INTERVIEW: Scott M. Bock interviews guitar player Johnny Nicholas who talks about Walter Horton, Boogie Woogie Red, Snooky Pryor and other bluesmen he has recorded and toured with.
FATS DOMINO BOX SET:  Tony Burke looks at the new Fats Domino box set (and now withdrawn/deleted) issued by Bear Family.
CAJUN & ZYDECO ESSENTIALS: Ray Templeton's on the  great Cajun string bands and fiddle swing bands.
PLUS: The Blues Discography (3rd edition) Updates and Corrections; Mike Stephenson's Under The Radar; Chris Bentley's Curiosities; Words, Words Word by Chris Smith Herb Cox; Sleepy LaBeef; Jack Scott; Robert Parker; Hal Singer; Filmore Slim; Accordion Revolution; Hollywood Fats