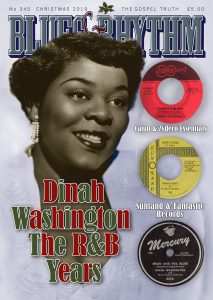 DINAH WASHINGTON : THE R&B YEARS: Fantastic research by Robert Pruter on the Queen of The Blues' R&B recordings 1945 to 1953. Lots of rare graphics and label shots.
CAJUN & ZYDECO ESSENTIALS: Ray Templeton's looks at Canray Fontenot and Bois Sec Ardoin – more great Cajun music history.
SUNLAND & FANTASTIC RECORDS: GABRIEL – Norman Darwen interviews Bob Scheir co-owner of Sunland/Fantastic Records on their blues 45's released in the early 1980s.
THE SPECIALTY RECORDS STORY: Billy Vera previews his new book on the Specialty Records Story – great R&B history.
LIONEL HAMPTON ORCHESTRA: Rare and unpublished photographs for the collection of Sam Benjamin of Lionel Hampton's debut UK tour in 1956 – when the UK press and jazzers told him to stop playing rock & roll!
PLUS: The Blues Discography (3rd edition) Updates and Corrections; Beverly 'Guitar' Watkins, Gip Gibson, Spot Barnett; Mississippi Blues Festivals; John Mayall; Screaming  Jay Hawkins; Big Bear Story; Gospel CD releases; Chris Bentley's Curiosities; Chris Smith's Words, Words; Words; Mike Stephenson's Under The Radar; CD & Book Reviews.