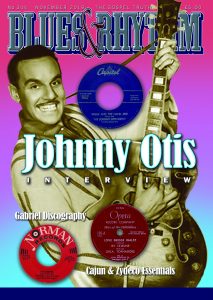 JOHNNY OTIS INTERVIEW: Another interview from Jonas Bernholm's "Mr. R&B Tapes" – this time a Howard Kozy's 1989 radio interview in Pittsburgh with Johnny Otis transcribed by Tony Watson.
CAJUN & ZYDECO ESSENTIALS: Ray Templeton's looks at  Iry LeJeune and his family – more great Cajun music history.
GABRIEL – THE FLOCK ROCKER: Third part of this unique piece of R&B history on the St. Louis DJ, recording artist, producer, label owner and promoter. A full Gabriel discography by Bill Greensmith and Jim O'Neal with labels shots and memorabilia.
BEA & BABY BOX SET: Tony Burke's special review of the new box set from Earwig Records featuring great Chicago blues and R&B recordings issued on Cadillac Baby and his variety of labels.
PHOTOS FROM THE PINKNEY ROBERTS COLLECTION: Dan Kochakain compiled some great photos of R&B stars of the 1940s and 1950s from the collection of MC and performer Pinkney 'Fashion Plate' Roberts. (Lionel Hampton in the UK will now appear in B&R 345!)
PLUS: The Blues Discography (3rd edition) Updates and Corrections; Donnie Fritts, Larry 'The Mole' Taylor, Pat Brown, UK bluesman Julian Piper obituaries;  Big Jack Reynolds, Ann Arbour Blues Festival 1968, Hollywood Fats, William Clarke; Chris Bentley's Curiosities; Chris Smith's Words, Words; Words; CD & Book Reviews.