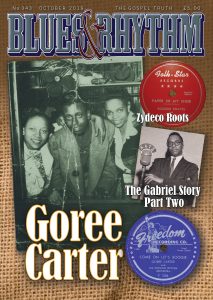 GOREE CARTER: Another interview from the "Mr. R&B Tapes" an interview by Dick Shurman transcribed by Dave Clarke, vintage interview with the great Houston blues man.
CAJUN & ZYDECO ESSENTIALS: Ray Templeton's digs deeper into the roots of cajun and zydeco music this time into the roots of Zydeco music and Boozoo Chavis..
GABRIEL – THE FLOCK ROCKER: Second part of this unique piece of R&B History based on interviews by Bill Greensmith with Gabriel, the St. Louis DJ, recording artist, producer, label owner and promoter.
PLUS: Art Neville obituary by Paul Harris; Luther 'Houserocker' Johnson; Steve Richards; Jerry Lawson; Steve Franz; Billy Branch; Bobby Rush; Chris Bentley's Curiosities; Chris Smith's Words, Words; Words; CD & Book Review