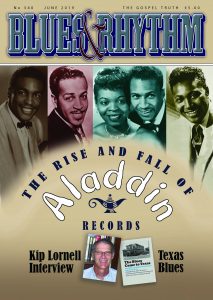 THE RISE AND FALL OF ALADDIN RECORDS: Great R&B Music History by Billy Vera
THE BLUES COME TO TEXAS: Special feature by Ray Templeton on the newly published book from an unpublished manuscript by Paul Oliver and Mack McCormick
MYTHS & FALSEHOODS: D. Thomas Moon interviews musicologist Kip Lornell  on blues history.
STAX/VOLT UK TOUR 1967: Great photo-spread of original photographs by Neil Carter
CADILLAC BABY BOX SET PREVIEW: Tony Burke previews the forthcoming 4 CD box set of tracks from Chicago's Bea & Baby, Keyhole & Miss labels.
WILLIE WINFIELD: Billy Vera pays tribute to a doo wop and vocal group legend who has just retired.
PRESTON FOSTER: Chris Bentley's Curiosities column delves into the history of the man who wrote 'Got My Mojo Working'
PLUS: Margaret Lewis; Hal Blaine; Fed Foster; Kent Harris; Cash McCall;  Juke Joint Festival; Lil Jimmy Reed; Mike Stephenson's Under The Radar; CD Reviews including Johnny Shines; Malaco Gospel; Magic Slim and The Teardrops; Tommy Hunt