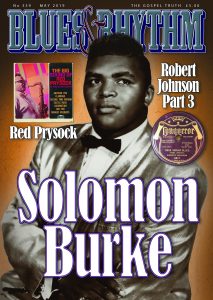 SOLOMON BURKE: 'The King's Comeback – The Remaking Of A Solomon Burke Classic' – Unique, extensive and exclusive article written by producer Scott Billington.
ROBERT JOHNSON:  Final part of Gayle Dean Wardlow's series on 'Searching For Robert Johnson'.
THE MR. R&B TAPES – RED PRYSOCK: The first of a series of edited transcriptions of Jonas Bernholm's audio tapes used for the sleevenotes of his Route 66 stable of reissue labels. Paul Williams interviews Red Prysock (more interviews more to come).
OFF THE WALL: Part Two of street posters from the Dave Williams Collection.
PLUS: Quintus McCormick; Eddie Taylor Jnr; Abb Locke; Chris Bentley's Curiosities; Chris Smith's Words, Words, Words; Mike Stephenson's Under The Radar; CD Reviews including Mary Lane, Julia Lee, Bullmoose Jackson, Koko Mojo compilations.