BARGAIN BIN BROWSING: Nineteen years on from the original research,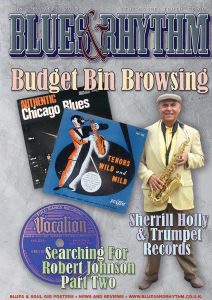 Opal Louis Nations and Bob Bell have produce another major feature on Budget Blues, R&B and Gospel vinyl album from the US and this time from UK.
ROBERT JOHNSON: Second  part of Gayle Dean Wardlow's series on 'Searching For Robert Johnson'.
SHERRILL HOLLY INTERVIEW: Mike Stephenson interviews Jackson, Mississippi saxman about Trumpet Records and the Farsh Street music scene in he 1940s and 1950s.
OFF THE WALL: Great R&B and Soul gig posters from the collection of Dave Williams.
THE BLUES DISCOGRAPHY THIRD EDITION: Special feature by Phil Wight on the newly published third edition of the Blues Discography.
PLUS: Bill Sims, Jackie Shane, Izzy Young; Cedric Burnside, Rick Estrin & The Nitecats gigs;  Blues Unlimted Exhibition; Chris Bentley's Curiosities; Chris Smith's Words, Words; Words; Mike Stephenson's Under The Radar; CD & Book Reviews including Henry Townsend & Roosevelt Sykes, Ivory Joe Hunter, Willie Dixon, Texas Hillbillies, Mahalia Jackson and many more.