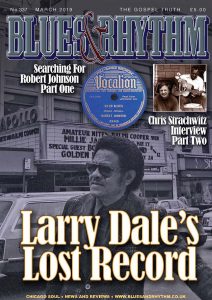 CHRIS STRACHWITZ INTERVIEW: Part Two of Garth Cartwright's interview with the Arhoolie Records boss. Chris talks about Mance Lipscomb; Lightnin' Hopkins; Fred McDowell, Flaco Jimenez; Bukka White etc
GOSPEL QUARTETS: Ray Templeton ends his series on great gospel quartets with a look at the Fairfield Four, The Southern Sons, The Pilgrim Travelers and others.
LARRY DALE'S LOST RECORD: John Broven's discographical research into a 'missing' Larry Dale 45rpm
ROBERT JOHNSON: First part of Gayle Dean Wardlow's series on Searching For Robert Johnson'.
CALVIN BARRON: The sixth in Robert Pruter's series on rare Chicago Soul Artists.
PLUS: Clydie King; Ace Cannon; Chris Bentley's Curiosities; Chris Smith's Words, Words; Words; Mike Stephenson's Under The Radar; CD & Book Reviews including Bloodest Saxophone; Cedric Burnside; Big Joe Turner; Big Jay McNeeley; Delbert McClinton.