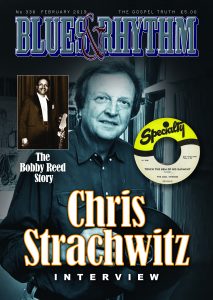 CHRIS STRACHWITZ INTERVIEW: Part One of a major two part interview by Garth Cartwright with the Arhoolie Records boss. Fantastic blues, roots and record collecting music history.

GOSPEL QUARTETS: More classic gospel music history as Ray Templeton looks the Specialty recordings of Sam Cooke and The Soul Stirrers.
THE BOBBY REED STORY: Dave Williams tells the story of west coast bluesman and bandleader of The Right Kind who recorded for Galaxy Records.
RPM 45's UPDATE: Victor Pearlin adds to his great research on 45rpm discs issued by the Bihari's RPM label with the help of Ray Astbury and Dan Kochakian.
OSCAR WILSON: Mike Stephenson interview with the Cash Box Kings vocalist
PLUS: Elder Roma Wilson; Eddie C. Campbell, Jody Williams, Calvin Newborn, Tony Joe White, Gerard Homan; Blues Festival Reports;  Chris Bentley's Curiosities; Chris Smith's Words, Words; Words; Mike Stephenson's Under The Radar; CD & Book Reviews including Joe Louis Walker, Floyd Dixon, Helen Humes, Prince Buster, Trojan Records 50th Anniversary.