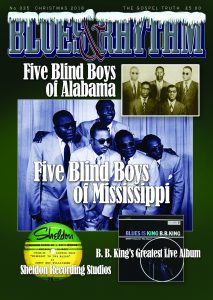 THE SHELDON STUDIOS – Dietmar Rudolf's extensive feature on the Sheldon Studios in Chicago. Jack Sheldon was responsible for engineering and mastering some of the great Chess blues and R&B hits and albums. Great piece of research.

GOSPEL QUARTETS: More gospel music history – Ray Templeton looks the legendary Five Blind Boys of Alabama and Five Blind Boys of Mississippi
B. B. KING'S GREATEST LIVE ALBUM: RARE BLUES RECORDS RESEARCH: Otis Grand examines in detail B. B. King's 'Blues Is King' album cut in Chicago in 1966 – Otis says it was B.B.'s 'greatest live album'.
WILLIE PARKER – FRANKIE NEWSOME; Robert Pruter's latest instalment in his great series on rare and obscure Chicago soul artists.
PLUS: Otis Rush obituary by Neil Slaven; St. Louis DJ and R&B artist Gabriel;  Teddy Scott; Mississippi Blues Festival reports; More of Chris Bentley's Curiosities; Chris Smith's Words, Words; Words; Mike Stephenson's Under The Radar; CD, DVD, & Book Reviews