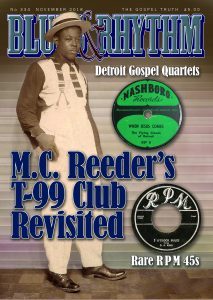 MORE GREAT 1950s AND 1960s R&B HISTORY: Bill Greensmith's extensive research and feature on M.C. Reeder and the T99 Club, in Osceola, Arkansas.
GOSPEL QUARTETS: More gospel music history – Ray Templeton looks the Gospel Quartets in Detroit including The Flying Clouds of Detroit & The Evangelist Singers
RARE BLUES RECORDS RESEARCH: Victor Pearlin RPM Records 45rpm discs and a special feature curated by Dan Kochakian on Modern & RPM 7inch 78rpm promo discs!
DOWNHOME BLUES BOX: Major review by Neil Slaven of the brand new New York, Cincinnati & North Eastern States Downhome Box Set
PLUS: Don Gardner; G. G. Shinn; Hosea Hargrove; More of Chris Bentley's Curiosities; Chris Smith's Words, Words; Words; Mike Stephenson's Under The Radar; CD, DVD, & Book Reviews