THE BLUES / R&B TIME-LINE  1619 – 1989
Created by Claus Röhnisch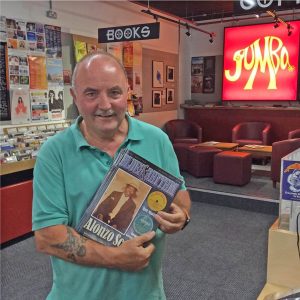 Tony Watson delivering the latest issue of B&R to Leeds indie record shop Jumbo Records in July 2018
B&Rs Mike Stephenson interviewed on JSUTV's Nightique with host Edward St. 'Pe #8. Just back from the USA, Mike Stephenson was interviewed about the link between the blues and Europe on 15th October.
 Blues & Rhythm Index from B&R 200 By Henk Maaskant Contains index of articles of artists, bands and personalities etc featured in Blues & Rhythm: Index of CD compilation reviews; Index of DVD reviews; Index of Book Reviews; Index of Chris Smith's 'Words, Words, Words'; Index of Discographies; Index of Obituaries; Indexes of CDs, LPs and singles. Click here to visit Henk's site!
Rock The Blues Away (PDF) B&R Contributor Gary Blue's discography of John Lee Hooker's Post 1981 Recordings. If you have any additions or corrections please mail him at gary@starblues.co.uk
Index of CDs and albums reviewed in Blues & Rhythm from Issue #1 to Issue #209 (Microsoft Excel spreadsheet) Research and updates by Rolf Stensletten
B&R 277 'Rockabilly Cowboys' 10 CD Box Set track list (Microsoft Excel spreadsheet) John Cleaves sent us this file with the details of tracks contained in the 10 CD box set, reviewed by Tony Burke. The box set contained only limited information. If you bought the set download this straight away and stick it in the box!
Muddy Waters Discography – by Phil Wight and Fred Rothwell. The definitive discography. Download it here – free, for yourself – but please don't nick and post it elsewhere. The wrath of B&R will come down on you if you do!
The Ballad Of Geeshie And Elvie A fantastic piece of research into the Paramount recordings of Geeshie Wiley and Elvie Thomas published on 13th April, 2014 in the New York Times Magazine.
The Second Coming Of Billy 'The Kid Emerson Great article, interview and video of  former Sun blues singer Billy 'The Kid' Emerson by Jeff Klinkenberg of the Tampa Bay Times. S
Soul's Holy Grail: Why The Rarest Record In The World Is Causing So Much Fuss – Guardian Blog
Coveting Vintage Discs in a Digital Universe New York Times
How To Clean A 78rpm Record by Joe Bussard
Preview of new film: This Ain't No Mouse