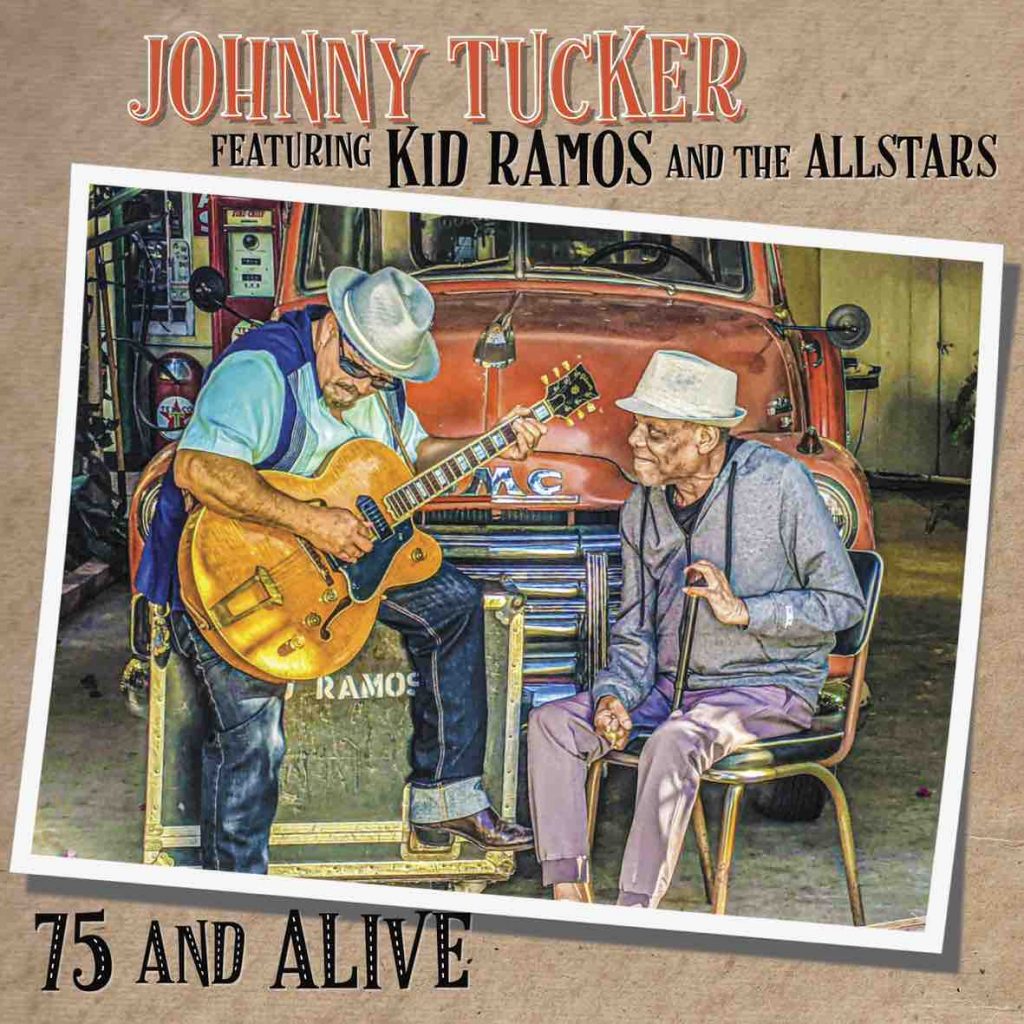 JOHNNY TUCKER FEATURING KID RAMOS AND THE ALLSTARS: 75 And Alive
Blue Heart BHR 016 (51:46)
All Night Long, All Night Wrong/ There's A Time For Love/ If You Ever Love Me/ Can't You See/ What's The Matter/ Treat Me Good/ Snowplow/ What's On My Mind/ Hookline/ Dance Like I Should/ Have A Good Time Tonight, Play Your Soul Johnny/ Gotta Do It One Time
New records as good as this rarely come along these days. Johnny Tucker has recorded a couple of albums for his manager Bob Auerbach's label High John; Bob is also the executive producer for this release, which will hopefully reach a wider audience. 
Johnny was born and is based in Fresno, California, though he did move to Los Angeles in 1964, where he teamed up with Phillip Walker, playing drums and adding backing vocals when required. He made his debut as a front man in 1997 when he shared the credit on the album 'Stranded' with James 'Broadway' Thomas. He has been familiar with guitarist Kid Ramos for a good few years now, and The Allstars include such luminaries as pianist Carl Sonny Leyland, Ron Dziubla on sax and writing the horn arrangements, and the always consistent Bob Corritore guesting on blues harp. Oh, and the album title? Well, it was recorded on 17th October 2020, Johnny's 75th birthday.
I'll be more than happy to have just half of the energy Johnny has here when I hit that landmark. As the notes reveal, this was a no-frills session. Kid called out the kind of grooves he wanted, the band hit it and Johnny improvised the lyrics and melodies – but listening to this wonderful set, that's hard to believe. Right from the first few seconds of the classic jumping blues approach of the opener, it is immediately apparent this is a classy release. Johnny is in excellent voice, Kid supplies his best T-Bone licks and the band is spot-on.
The rest of the album maintains this high standard, seemingly effortlessly. It is hard to pick out highlights on a consistently impressive set like this, but do try the rolling, mambo-flavoured blues of 'What's The Matter', the Magic Sam styled 'Treat Me Good', or the tough Chicago touch of 'Have A Good Time Tonight'. The closer is a powerful number that shows just how much Johnny was inspired by James Brown in his early days. But the old cliché of 'there's not a poor track here' certainly applies, and the bar is so much higher than that.
Kid Ramos has a couple of tasty instrumental workouts with 'Snowplow' – Albert Collins inspired, of course – and the Earl Hooker sound of 'Hookline', combining slide and wah-wah pedal as Earl used to do. Again, the standard is very high and you certainly can't begrudge him those.
Hopefully, there will be a swift follow-up to this set – blues this good doesn't come along too often these days, as I said earlier. In the meantime though, do grab yourself a copy, put it in the CD player, and enjoy – you won't regret it.
Norman Darwen
 Reverend Robert Wilkins : Prodigal Son
Bear Family BCD16629AH
Robert Cray: In My Soul
Provogue Records
James Armstrong: Guitar Angels
Catfood CFR20
John & Sylvia Embry: Troubles
Delmark 832
Peabody Blues
Nehi 01
Harmonica Shah: Havin' Nothin' Don't Bother Me
Electro-Fi Records 3436
Sorrow Come Pass Me Around: A Survey of Rural Black Religious Music
Dust to Digital DTD-31
Beating the Petrillo Ban: The Late December 1947 Modern Sessions
Ace CDTOP2-1273
Bluesin' By The Bayou
Ace CDCHD 1368