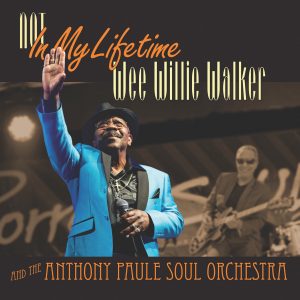 WEE WILLIE WALKER WITH THE ANTHONY PAULE SOUL ORCHESTRA: Not In My Lifetime
Blue Dot BDR CD 110 / LP 110 (53:59)
A Word From Willie/ Don't Let Me Get In Your Way/ Over And Over/ Real Good Lie/ What Is It We're Not Talking About/ Darling Mine/ I'm Just Like You/ Make Your Own Good News/ Warm To Cool To Cold/ Let The Lady Dance/ Heartbreak/ Suffering With The Blues/ Almost Memphis/ 'Til You've Walked In My Shoes
The opening track, 'A Word From Willie', was sadly all too prophetic; a brief spoken introduction, he speaks of the fun he had making this set, adding, "I don't think it can ever happen again, not for me, in my lifetime". Willie died on 19th November 2019, three days after he laid down the vocals on this wonderful album. 
This is the follow-up to the extremely well-received 'After A While', issued in 2017, a couple of years after Willie and Anthony first teamed up. The team that worked on that earlier set was more or less reassembled for this album – a tight band (piano, keyboards and rhythm section), a big-sounding four-piece horn section and top-notch backing vocalists.
In front of them all is Willie, the soul- and blues-man born in Hernando, Mississippi a couple of days before Christmas in 1941 and raised in Memphis, on a bunch of largely original songs written especially for him by Christine Vitale and her husband Anthony (with others also helping out). 
It is a set that ranges across the Otis Redding ballad into slow impassioned blues of 'Darling Mine' to the classic soul sound of 'Over And Over'. 'Real Good Lie' is an excellent blues with echoes of classic Ray Charles in its arrangement. Or try 'I'm Just Like You', an upbeat but bluesy song I checked out on YouTube quite a while back now, a song to counter the divisions promoted by the USA's previous leadership and with wonderful churchy backing vocals by The Sons Of The Soul Revivers – it's a bonafide housewrecker.
Anthony Paule's guitar introduction more than hints at the wonderful sound of Curtis Mayfield & The Impressions recreated on 'Make Your Own Good News', whilst 'Warm To Cool To Cold' is a fine, bouncing piece of late '50s r&b, with a vaguely country-ish feel (it was originally a country song) – much more upbeat than the southern soul version Willie cut for Quinton Claunch and Goldwax that was released on Checker in 1968.
Mind you, classic southern soul does come in the form of 'Let The Lady Dance', whilst 'Heartbreak' is a fine, jazzy blues with shades of B.B. King. Joe Medlin's/Little Willie John's 'Suffering With The Blues' and ''Til You've Walked In My Shoes' are both excellent sophisticated blues performances, not the kind of thing that comes along too often these days.
The CD version of this release contains the tracks as listed above. The vinyl release has ten tracks and a slightly different sequence. Missing are the spoken opener, 'Let The Lady Dance', 'Suffering With The Blues' and the instrumental soul workout for the band, 'Almost Memphis'. If you're going to buy the vinyl, you'll want the CD for those tracks anyway…
Norman Darwen
BIG BOB KORNEGAY: Your Line Was Busy
Jasmine JASMCD 3179 (74:00)
JULIAN DASH AND HIS ORCH.: Can't Understand It; BOB KORNEGAY: This Is The Day/ Take Me Baby/ Stop Knockin' Rock 'N' Roll/ Between You And Me And The Gatepost/ Is It True; THE DU DROPPERS: I Found Out (What You Do When You Go 'Round There)/ Just Whisper/ Give Me Some Consideration; THE DIXIEAIRES: I'm Not Like I Used To Be; THE BELLS: Let Me Love, Love You; THE RAVENS: I Can't Believe; BIG DADDY & HIS BOYS: Bacon Fat/ Bad Boy; PORK CHOPS: I Wanna See My Lovin' Baby/ Everything's Cool; BIG BOB KORNEGAY 'THE HAPPY WANDERER': The M
ALABAMA MIKE: Hip You To My Blues
Big Tone Records 246 (48:00)
Black Cadillac/ I'm Selfish/ California Blues/ Frustrate My Life/ 20% Alcohol/ Diabetic Man/ Cut That Out/ How You Want Your Rollin Done?/ V-8 Ford Blues/ Hip You To My Blues/ Stop Accusing That Woman/ I'm In Love With A Woman/ Hello Central/ Keep My Grave Clean/ I Feel So Good
It was a surprise to learn about a new release by Alabama Mike (real name Michael A. Benjamin) on Big Jon Atkinson's new label. Alabama Mike's earlier recordings, such as those with The Andy T Band in 2017's 'Double Strike,' often displayed a gospel-rooted vocal style in the manner of Little Johnnie Taylor. 
This new release finds him in a down-home blues vein with a dose of Lightnin' Hopkins flavour along with some tracks that evoke early '50s Chicago style. This recording reflects Alabama Mike's long-burning desire to 'do a record in the classic style of early electric blues pioneers….' 
The backing musicians on this set of retro blues include Kim Wilson on harmonica, Big Jon Atkinson and Danny Michel on guitar, Troy Sandow and Kedar Roy on bass, Joe Lempkowski on harmonica, June Core and Malachi Johnson on drums, Robert Welsh on keyboards, on retro-sounding performances.
Alabama Mike certain invests his vocals with intensity and soul. The Lightnin' Hopkins influence can best be heard on the opening 'Black Cadillac' (with Atkinson on guitar) as well as the revival of Hopkins' 'Hello Central' with Danny Michel on guitar, Kim Wilson on harmonica and Marty Dodson on drums lending the performance a swamp blues flavour. Danny Michel also channels Hopkins guitar on the swampy 'California Blues,' with choice Joe Lempkowski harmonica accompaniment.
A reworking of John Lee 'Sonny Boy' Williamson's 'Cut That Out' sounds like a down-home version of Junior Wells 1950's recording. Kim Wilson is on harmonica, Atkinson on guitar and Dodson on drums. Welsh provides the greasy organ on 'Diabetic Man' with Wilson on the harp. On 'How You Want Your Rollin Done,' Atkinson plays some excellent T-Bone Walker-styled guitar. On Big Bill Broonzy's 'I Feel So Good,' Alabama Mike delivers a strong vocal in the manner of Muddy Waters with J.B. Hutto styled slide guitar in the backing. 'Keep My Grave Clean' is an ingenious band reworking of what was Blind Lemon Jefferson's most famous recording, while the cover of J.B. Hutto's 'Too Much Alcohol' sticks close to the arrangement of Hutto's Delmark recording.
A moody rendition of Willie Love's 'V-8 Ford' with Atkinson and Welsh closes a release of notable down-home blues performances. There are a couple of times the backing may be a tad skeletal, but Alabama Mike's singing and the idiomatic support result in a most entertaining blues album.
Ron Weinstock
 Reverend Robert Wilkins : Prodigal Son
Bear Family BCD16629AH
Robert Cray: In My Soul
Provogue Records
James Armstrong: Guitar Angels
Catfood CFR20
John & Sylvia Embry: Troubles
Delmark 832
Peabody Blues
Nehi 01
Harmonica Shah: Havin' Nothin' Don't Bother Me
Electro-Fi Records 3436
Sorrow Come Pass Me Around: A Survey of Rural Black Religious Music
Dust to Digital DTD-31
Beating the Petrillo Ban: The Late December 1947 Modern Sessions
Ace CDTOP2-1273
Bluesin' By The Bayou
Ace CDCHD 1368