LIGHTNIN' HOPKINS: King Of Dowling Street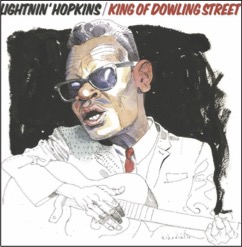 Sunset Boulevard SBR-7993 (Three CDs: 72:54; 78:18; 67:40)
CD One: Favorites: Moanin' Blues/ Leaving Blues/ Late In The Evening/ Lightnin' Jump/ Long Gone Like A Turkey Through The Corn/ How Long Have It Been Since You Been Home?/ Mojo Hand/ Glory Be/ How Long Has The Train Been Gone/ Have You Ever Loved A Woman/ Santa/ Black Mare Trot/ Coffee For Mama/ Awful Dream/ Sometimes She Will/ Shine On Moon/ Houston Bound/ Baby I Don't Care/ Give Me Time To Think/ No Education
CD Two: Rarities: This Time We're Going To Try/ Christmas Time Is Coming/ Let's Work Awhile/ The Jet/ I Don't Need You Woman/ I Wish I Was A Baby/ This Crazy Song/ Lightnin's Love/ Take It If You Want It/ Have Have You Been (sic)/ My Baby Was Crying For Bread/ I Wonder Where She Can Be Tonight / Feel Like Ballin' The Jack/ Rainy Day In Houston/ How Does It (Instrumental)/ A Man Like Me Is Hard To Find/ Movin' Out/ You Just Gotta Miss Me/ World's In A Tangle / Shinin' Moon
CD Three: Live: You Gonna Miss Me When I'm Gone/ Big Black Cadillac Blues/ Baby Please Don't Go/ Houston Rock/ Leave Jike Mary Alone/ Rock Me All Night Long/ Don't Treat That Man The Way You Treat Me/ Cook My Breakfast/ You Treat Po' Lightnin' Wrong/ I Got My Hook In Your Water/ Mighty Crazy/ My Babe/ Last Night I Lost The Best Friend I Ever Had/ Key To The Highway/ Mr. Charlie (Part 2)/ Baby Scratch My Back/ Mojo Hand/ Shining Moon
Even after half a century of listening to Lightnin' Hopkins, I can still be struck by how consistently good he was. It's not that every record is of the same high quality – there are some that are very much better than others – but even when he doesn't live up to his own high standards, he's always well worth listening to. These three well-packed discs offer us a real mixture, covering material from the 1950s through to the 1980s. Disc One (subtitled 'Favorites') starts with both sides of his two magnificent TNT 78s from 1953, moves through a couple of good acoustic tracks from later in the decade and then on to the whole of what was originally the Fire LP, from 1960. It's fine stuff – 'Mojo Hand', the original title track is, of course, a classic, but its flip 'Glory B' is a lovely Hopkins slow blues, while the instrumental 'Black Mare Trot' is an absolute beauty, with passages that seem quite unique in his catalogue. 'Awful Dream' has an unusual accompaniment, some of his most apocalyptic lyrics and a wonderfully intense vocal. A couple of bonus tracks from the same sessions, which weren't on the LP (but subsequently made it to CD) are new to me, and 'Houston Bound' is especially fine (not issued originally, I suspect, because the drummer takes a few bars to settle on to Lightnin's rhythm). The disc closes with one track each from the 'Free Form Patterns' and 'California Mudslide' albums. 
Disc Two is subtitled 'Rarities', always a hostage to fortune these days, when so much has been issued and reissued several times over in every possible format. The first ten tracks date from 1964 and were originally released on a Pickwick LP in the US, then on Blue Horizon in the 1970s in the UK, on JSP in the 1980s and on a Japanese P-Vine CD in the 00s. Either way, with just Lightnin' and an electric guitar, it's a decent if slightly sloppy session in which the highlight (despite an uncharacteristically coarse unaccompaniment) is 'The Jet', with the flying-phobic Hopkins describing his recent traumatic transatlantic flight: 'I was scared, just as scared as any man can be, all I could hear were that motor, singing a song back at poor me'.
Some of the next ten, from Roy Ames sessions in Houston, were released on Home Cooking/Collectables albums (including Hopkins' LP 'Strikes Again' and Billy Bizor's 'Blowing My Blues Away'), but it looks like there might be a few that appear here for the first time, or at least I can't find them in the discography. Despite the producer sometimes leaning a little heavily on the reverb control, it's all pretty strong. If you want some good examples of how Hopkins would pick up pieces from other songs and fashion them to his own ends, here you'll find scraps of Big Bill Broonzy and Cecil Gant, among others.
Disc Three is 'Live' and mixes up performances from different venues over more than a decade. Some of these have been on albums before ('Live At The Bird Lounge', for example, was on all sorts of labels on both sides of the Atlantic) but assuming the dates given in the notes are correct (and I've no reason to doubt it) there seem to be eleven tracks issued here for the first time. There may not be many surprises, but there's plenty of interest. On a 1966 gig at the Ash Grove in LA, there's a second guitarist mostly laying down rhythm and bass runs, and a harmonica player adding the odd bit of punctuation. Lightnin' calls on the guitarist to take a solo at one point on 'You're Gonna Miss Me' and might be saying 'All right, Buddy', but might not, so not much of a clue there. The solo doesn't really sparkle (unlike Hopkins' which almost always do), so no clue there either. There's two tracks from 1976, which first appeared on a 'New Orleans Jazz & Heritage Festival' compilation on Island, and it's good to hear him going down so well with the audience. Finally (although further up the running order), on the 1981 instrumental 'Houston Rock', you can tell that the man was getting past his best, but there's enough spirit showing through to suggest that he was right to keep going.
Hopkins was one of the greatest of the greats, in my view, and there's no shortage of evidence for that on this wide-ranging and thoroughly enjoyable compilation, which comes with one of Joe Ciardiello's fine portraits on the front of the package.
Ray Templeton
BIG BOB KORNEGAY: Your Line Was Busy
Jasmine JASMCD 3179 (74:00)
JULIAN DASH AND HIS ORCH.: Can't Understand It; BOB KORNEGAY: This Is The Day/ Take Me Baby/ Stop Knockin' Rock 'N' Roll/ Between You And Me And The Gatepost/ Is It True; THE DU DROPPERS: I Found Out (What You Do When You Go 'Round There)/ Just Whisper/ Give Me Some Consideration; THE DIXIEAIRES: I'm Not Like I Used To Be; THE BELLS: Let Me Love, Love You; THE RAVENS: I Can't Believe; BIG DADDY & HIS BOYS: Bacon Fat/ Bad Boy; PORK CHOPS: I Wanna See My Lovin' Baby/ Everything's Cool; BIG BOB KORNEGAY 'THE HAPPY WANDERER': The M
ALABAMA MIKE: Hip You To My Blues
Big Tone Records 246 (48:00)
Black Cadillac/ I'm Selfish/ California Blues/ Frustrate My Life/ 20% Alcohol/ Diabetic Man/ Cut That Out/ How You Want Your Rollin Done?/ V-8 Ford Blues/ Hip You To My Blues/ Stop Accusing That Woman/ I'm In Love With A Woman/ Hello Central/ Keep My Grave Clean/ I Feel So Good
It was a surprise to learn about a new release by Alabama Mike (real name Michael A. Benjamin) on Big Jon Atkinson's new label. Alabama Mike's earlier recordings, such as those with The Andy T Band in 2017's 'Double Strike,' often displayed a gospel-rooted vocal style in the manner of Little Johnnie Taylor. 
This new release finds him in a down-home blues vein with a dose of Lightnin' Hopkins flavour along with some tracks that evoke early '50s Chicago style. This recording reflects Alabama Mike's long-burning desire to 'do a record in the classic style of early electric blues pioneers….' 
The backing musicians on this set of retro blues include Kim Wilson on harmonica, Big Jon Atkinson and Danny Michel on guitar, Troy Sandow and Kedar Roy on bass, Joe Lempkowski on harmonica, June Core and Malachi Johnson on drums, Robert Welsh on keyboards, on retro-sounding performances.
Alabama Mike certain invests his vocals with intensity and soul. The Lightnin' Hopkins influence can best be heard on the opening 'Black Cadillac' (with Atkinson on guitar) as well as the revival of Hopkins' 'Hello Central' with Danny Michel on guitar, Kim Wilson on harmonica and Marty Dodson on drums lending the performance a swamp blues flavour. Danny Michel also channels Hopkins guitar on the swampy 'California Blues,' with choice Joe Lempkowski harmonica accompaniment.
A reworking of John Lee 'Sonny Boy' Williamson's 'Cut That Out' sounds like a down-home version of Junior Wells 1950's recording. Kim Wilson is on harmonica, Atkinson on guitar and Dodson on drums. Welsh provides the greasy organ on 'Diabetic Man' with Wilson on the harp. On 'How You Want Your Rollin Done,' Atkinson plays some excellent T-Bone Walker-styled guitar. On Big Bill Broonzy's 'I Feel So Good,' Alabama Mike delivers a strong vocal in the manner of Muddy Waters with J.B. Hutto styled slide guitar in the backing. 'Keep My Grave Clean' is an ingenious band reworking of what was Blind Lemon Jefferson's most famous recording, while the cover of J.B. Hutto's 'Too Much Alcohol' sticks close to the arrangement of Hutto's Delmark recording.
A moody rendition of Willie Love's 'V-8 Ford' with Atkinson and Welsh closes a release of notable down-home blues performances. There are a couple of times the backing may be a tad skeletal, but Alabama Mike's singing and the idiomatic support result in a most entertaining blues album.
Ron Weinstock
 Reverend Robert Wilkins : Prodigal Son
Bear Family BCD16629AH
Robert Cray: In My Soul
Provogue Records
James Armstrong: Guitar Angels
Catfood CFR20
John & Sylvia Embry: Troubles
Delmark 832
Peabody Blues
Nehi 01
Harmonica Shah: Havin' Nothin' Don't Bother Me
Electro-Fi Records 3436
Sorrow Come Pass Me Around: A Survey of Rural Black Religious Music
Dust to Digital DTD-31
Beating the Petrillo Ban: The Late December 1947 Modern Sessions
Ace CDTOP2-1273
Bluesin' By The Bayou
Ace CDCHD 1368