POISON GARDNER: Noisen With Poison – The Complete Recordings 1945-1950
Jasmine JASMCD3228 (75:58)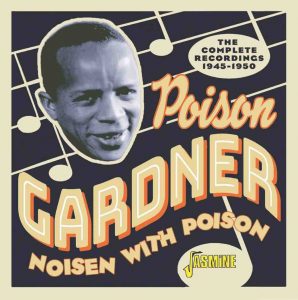 POISON GARDNER TRIO: Poison's Boogie/ My Baby's Gone Away/ Noisen With Poison/ Second Piece Of Pie; POISON GARDNER HIS ALL STARS: Medium Fast Boogie/ Melody In F Boogie/ Empire Boogie/ Rhapsody Boogie/ Workingman's Blues/ Big Leg Mama Blues/ Lenox Avenue Boogie/ Mobile Boogie/ Between Midnight And Day/ House Rent Blues/ Square Dance Boogie/ Doublecrossin' Woman/ Eviction Blues/ 52nd Street Jump/ So Many Women/ Ten O'Clock Stomp/ Mean Old World/ Camp Meetin'/ You're My Baby Tonight/ '33'/ Gotta Find My Baby; THE GARDNER TRIO: Knock Kneed Butterfly/ One O'Clock Jump
Jasmine Records continues to inspire and delight with the latest batch of releases spear-headed by this superb production by Bob Fisher with help from a cohort of blues specialists from both sides of the Atlantic. Another one of those first-time artists that have never before been awarded an overview on either CD or LP, Julian Leon 'Poison' Gardner was an East Coaster who found fame, if not fortune, over on the other shore playing blues and boogie woogie on his piano and the small batches of reissued tracks that have been drip-fed to us over the years have only left us hungry for more! Eleven years ago, JSP issued a dozen of Poison's Imperial tracks on a West Coast R&B box set and the long wait has now been rewarded with a full 27 tracks of the complete known releases of the man.
Born in 1907 in Pennsylvania, by 1931 Gardner had married and relocated to Akron, Ohio, where he got a radio slot on Radio WADC. Within a couple of years he was being referenced under the nickname 'Poison', playing up and down the Eastern seaboard before making the leap to Los Angeles in 1940 where he formed his own trio. Cameos in wartime movies and a recording career followed, first for Juke Box Records (1945) and then Imperial (1947), ending up with Carl Burns' Long Beach based Crystalette Records in 1950. Trade magazine The Billboard reported in 1958 that he was being signed to the new Hollywood-based Tender label, but no recordings have ever been found, yet he was still active as a live entertainer and leader of his trio, with residencies through the 1950s and 1960s, until his death in L.A. in 1970.
The earliest tracks find Poison in the company of Jimmy Miller (guitar/vocals) and Chuck Barksdale (bass). Whether the latter is the bassist of similar name who had played with The Cats & The Fiddle in the late 1930s and had been reported as dead in 1941 is not known, but all three members acquit themselves well on both the jam-session-like instrumentals 'Poison's Boogie' and, particularly, 'Noisen with Poison' on which Miller's guitar gets a look in. Miller's blues vocal feature, 'My Baby's Gone Away', is typical of the laid-back California style of the period but Poison's boisterous piano solo lifts it above the norm. His other vocal outing is a jivey, comedic ditty that would not sound out of place in the British music hall of the time.
Although separated by only two years, the leap in both technology and style between the four Juke Box tracks and the twenty Imperial recordings is marked. Some of the first Imperial tracks still display the nightclub origins of Gardner, such as the semi-classical 'Melody in F Boogie' and 'Rhapsody Boogie', no doubt demanded in answer to the popularity of Hadda Brooks' similar work, but then tenor saxophonist Bumps Myers is brought in along with a drummer to boost the usual trio format while other sessions also include a trumpet, a second tenor and/or a baritone sax to enrich the backing further and leads to masterpieces such as 'Lenox Avenue Boogie' and 'Mobile Boogie' being created, with Bumps sounding dangerously close to Maxwell Davis at times. 
From the next session, Maxwell Davis, himself is introduced and, another plus from this point on is the inclusion of blues shouter Fat Man Hamilton who sings the slow 'Working Man's Blues', 'Between Midnight And Day', 'Eviction Blues', 'So Many Women', 'Doublecrossin' Woman' (a cracking Maxwell Davis solo followed by brilliant Poison piano) and the romping 'House Rent Blues'. There are even duets between Poison and Hamilton on 'Square Dance Boogie' and 'Big Leg Mama Blues' – the latter, a portmanteau of then popular jump-blues lyrics! In contrast, the lively '52nd Street Jump' and 'Ten O'Clock Stomp' show just how seriously musical the group could be on instrumental numbers with what sounds like Maxwell Davis arrangements for a little big-band, spotlighting spectacular solos from Maxwell Davis, the trumpeter (Jake Porter?) and Poison himself. 
The final Imperial session from December 1947 – a gallop to beat the new year's Petrillo recording ban – is an all vocal affair with guitarist Jimmy Miller crooning the smooth 'You're My Baby Tonight' while drummer/blues shouter Alton Redd thankfully gets the lion's share with good cuts of the T-Bone Walker-inspired (but not slavishly covered) 'Mean Old World' and 'Gotta Find My Baby' and the faux-spiritual hand-clapper 'Camp Meeting'. Again, all recorded masters feature great tenor sax solos by Maxwell Davis along with that trumpeter, but quite why Jasmine have included the instrumental '33' again, when it was simply a retitling of 'Mobile Boogie' from the second session for reuse on Imperial 5030, is curious? Still I'd rather have a duplicated track than a missed one…
Coming after the up-to-the-minute Imperial r&b sound, the 1950 Crystalette coupling seems to be a retrogressive step with a brace of tracks that could easily have been cut at the 1945 Juke Box session. Even so, these are well-recorded with good contributions from all concerned, especially the solid bass-player, although Poison's piano dominates, and note that the closing track 'One O'Clock Jump' is a stomping boogie which bears no relation to the Count Basie swing classic of similar title. An info-packed six page booklet with discography, label shots, photos and trade ads completes this impressive package by an artist I never thought to see rewarded with a career overview…and so well done, too. Thank you Jasmine and thank you Bob and all concerned. This is quite special!
Dave Penny
BIG BOB KORNEGAY: Your Line Was Busy
Jasmine JASMCD 3179 (74:00)
JULIAN DASH AND HIS ORCH.: Can't Understand It; BOB KORNEGAY: This Is The Day/ Take Me Baby/ Stop Knockin' Rock 'N' Roll/ Between You And Me And The Gatepost/ Is It True; THE DU DROPPERS: I Found Out (What You Do When You Go 'Round There)/ Just Whisper/ Give Me Some Consideration; THE DIXIEAIRES: I'm Not Like I Used To Be; THE BELLS: Let Me Love, Love You; THE RAVENS: I Can't Believe; BIG DADDY & HIS BOYS: Bacon Fat/ Bad Boy; PORK CHOPS: I Wanna See My Lovin' Baby/ Everything's Cool; BIG BOB KORNEGAY 'THE HAPPY WANDERER': The M
ALABAMA MIKE: Hip You To My Blues
Big Tone Records 246 (48:00)
Black Cadillac/ I'm Selfish/ California Blues/ Frustrate My Life/ 20% Alcohol/ Diabetic Man/ Cut That Out/ How You Want Your Rollin Done?/ V-8 Ford Blues/ Hip You To My Blues/ Stop Accusing That Woman/ I'm In Love With A Woman/ Hello Central/ Keep My Grave Clean/ I Feel So Good
It was a surprise to learn about a new release by Alabama Mike (real name Michael A. Benjamin) on Big Jon Atkinson's new label. Alabama Mike's earlier recordings, such as those with The Andy T Band in 2017's 'Double Strike,' often displayed a gospel-rooted vocal style in the manner of Little Johnnie Taylor. 
This new release finds him in a down-home blues vein with a dose of Lightnin' Hopkins flavour along with some tracks that evoke early '50s Chicago style. This recording reflects Alabama Mike's long-burning desire to 'do a record in the classic style of early electric blues pioneers….' 
The backing musicians on this set of retro blues include Kim Wilson on harmonica, Big Jon Atkinson and Danny Michel on guitar, Troy Sandow and Kedar Roy on bass, Joe Lempkowski on harmonica, June Core and Malachi Johnson on drums, Robert Welsh on keyboards, on retro-sounding performances.
Alabama Mike certain invests his vocals with intensity and soul. The Lightnin' Hopkins influence can best be heard on the opening 'Black Cadillac' (with Atkinson on guitar) as well as the revival of Hopkins' 'Hello Central' with Danny Michel on guitar, Kim Wilson on harmonica and Marty Dodson on drums lending the performance a swamp blues flavour. Danny Michel also channels Hopkins guitar on the swampy 'California Blues,' with choice Joe Lempkowski harmonica accompaniment.
A reworking of John Lee 'Sonny Boy' Williamson's 'Cut That Out' sounds like a down-home version of Junior Wells 1950's recording. Kim Wilson is on harmonica, Atkinson on guitar and Dodson on drums. Welsh provides the greasy organ on 'Diabetic Man' with Wilson on the harp. On 'How You Want Your Rollin Done,' Atkinson plays some excellent T-Bone Walker-styled guitar. On Big Bill Broonzy's 'I Feel So Good,' Alabama Mike delivers a strong vocal in the manner of Muddy Waters with J.B. Hutto styled slide guitar in the backing. 'Keep My Grave Clean' is an ingenious band reworking of what was Blind Lemon Jefferson's most famous recording, while the cover of J.B. Hutto's 'Too Much Alcohol' sticks close to the arrangement of Hutto's Delmark recording.
A moody rendition of Willie Love's 'V-8 Ford' with Atkinson and Welsh closes a release of notable down-home blues performances. There are a couple of times the backing may be a tad skeletal, but Alabama Mike's singing and the idiomatic support result in a most entertaining blues album.
Ron Weinstock
 Reverend Robert Wilkins : Prodigal Son
Bear Family BCD16629AH
Robert Cray: In My Soul
Provogue Records
James Armstrong: Guitar Angels
Catfood CFR20
John & Sylvia Embry: Troubles
Delmark 832
Peabody Blues
Nehi 01
Harmonica Shah: Havin' Nothin' Don't Bother Me
Electro-Fi Records 3436
Sorrow Come Pass Me Around: A Survey of Rural Black Religious Music
Dust to Digital DTD-31
Beating the Petrillo Ban: The Late December 1947 Modern Sessions
Ace CDTOP2-1273
Bluesin' By The Bayou
Ace CDCHD 1368