BIG BOB KORNEGAY: Your Line Was Busy
Jasmine JASMCD 3179 (74:00)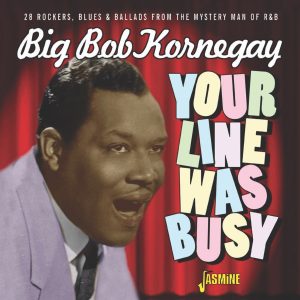 JULIAN DASH AND HIS ORCH.: Can't Understand It; BOB KORNEGAY: This Is The Day/ Take Me Baby/ Stop Knockin' Rock 'N' Roll/ Between You And Me And The Gatepost/ Is It True; THE DU DROPPERS: I Found Out (What You Do When You Go 'Round There)/ Just Whisper/ Give Me Some Consideration; THE DIXIEAIRES: I'm Not Like I Used To Be; THE BELLS: Let Me Love, Love You; THE RAVENS: I Can't Believe; BIG DADDY & HIS BOYS: Bacon Fat/ Bad Boy; PORK CHOPS: I Wanna See My Lovin' Baby/ Everything's Cool; BIG BOB KORNEGAY 'THE HAPPY WANDERER': The Man In The Phone Booth (Hello Baby)/ The Man In The Phone Booth (Hello Mama)/ Hocus Pocus Voo Doo/ Come By Here; BIG BOB KORNEGAY: Stay With Me Baby/ Humdinger; DAVE & BOB: Two Old Sparrows/ Whoa Bessie; BIG BEE KORNEGAY: At The House Of Frankenstein/ The Fiesta Rock'n Roll/ Exposition Rock; BIG BEE CORNEGAY: Hey Mary Lou: BIG BOB: What Am I/ Your Line Was Busy
YES! This is more like it! I have nothing but admiration for the reissue companies that are operating outside the area of the tried and tested best-sellers to offer releases featuring the more obscure and esoteric, so when they stray into artists that have never been subjected to their own compilation – on CD or LP – my admiration is off the scale. When it turns out as entertaining as this you wonder why the last five decades or so of intense reissues have ignored such an important source of great material…
Such is the case with the CD under review. Although Big Bob Kornegay made his recording debut under the name 'Texas Bob' it is generally believed that he hailed from no further away than Brooklyn, and that recording kicks off the selection. The sole Mercury side on which he was featured is included and the plummy 'Can't Understand It', a duet with Carmen Taylor backed by Julian Dash's band, doesn't excite but it is nice to hear it. Only one of his two Sittin' In With 78s has been included, with 'This Is The Day' trying to capture some Billy Eckstine coin, but the romping 'Take Me, Baby' is more in line with the Big Bob of the Du Droppers fame. Talking of whom, we are then treated to a handful of selections by the group, who Kornegay joined in early 1953. The lead vocals are usually taken by J.C. Ginyard but Big Bob is well-featured on 'I Found Out (What You Do When You Go 'Round There)' and 'Give Me Some Consideration', he takes a recitation on the gospel-tinged 'Just Whisper' and an even more prominent lead role on alter-ego The Dixieaires' moonlight recording of 'I'm Not Like I Used To Be' for Morty Shad's Harlem label.
Oddly, the influence of The Du Droppers is felt on Bob's recordings with The Bells (a Joe Van Loan post Ravens group) for Rama, especially 'Let Me Love, Love You' while his solo 45 – with Rama stalwart Jimmy 'One Note' Wright and his band – pairs a jaunty rocker with a startlingly soulful 'Is It True?' with Bob sounding like Jay Hawkins at his most serious. 
The unissued-at-the-time 'Stop Knockin' Rock 'n' Roll' relies on elements of old black folklore, particularly 'The Jungle King'/ 'Signifyin' Monkey' saga. Bob leads the Ricky-less Ravens (really The Bells again) on the Argo side, 'I Can't Believe', and the studio group 'Big Daddy & His Boys' turn out startlingly close covers of two recent hits with 'Bacon Fat' and 'Bad Boy' for King Records. General consensus points to the anonymised Herald label vocalist, Pork Chops, being Big Bob but it doesn't sound like him to me. The two sides are both worth hearing again, whoever owns the pipes.
Telephone songs were big business in the late 1950s and Big Bob had his greatest successes with such novelties. As 'The Wanderer'/'The Happy Wanderer' he cut the two-part 'The Man In The Phone Booth' for both Herald and Flair-X labels in New York City in 1957, which has him calling his girlfriend on one side and his mama on the other. The Flair-X version is the better of the two but is not featured here and the 'Hello Mama' side is spoiled by being a poor transfer to CD. Despite being a big seller, the follow-up for Herald was a more orthodox jumper, pairing the riotous 'Hocus Pocus Voo Doo' with a calypso-inspired 'Come By Here'. The third Herald 45 was his best, a collaboration with Dave 'Baby' Cortez which resulted in the bluesy 'Stay With Me Baby' (lots of good Mickey Baker but no solo) and the rocking 'Humdinger' (a great Baker solo).
In 1958 Bob and Dave recorded a one-off as a duet for the M&F label: 'Two Old Sparrows' is a cut-in novelty that uses Dave and Bob singing clips of the hits from the day…except for a couple where they have used actual clips from the records. The proper duet, 'Whoa Bessie', is much better. As Big Bee Kornegay he then recorded with Leroy Kirkland's band for Go/Moonglow and the rip-roaring 'At The House Of Frankenstein' is a better than average Halloween rocker while 'Fiesta Rock 'n' Roll' is a Latin wailer with a good sax. Uniquely 'Exposition Rock' celebrates Belgium's Expo 58 World's Fair but, as Moonglow was a Belgian label, this may not be as strange as it first appears, and 'Mary Lou' is a pop-rocker that, again, suffers from poor transfer or source material.
Big Bob bowed out in 1959 with a great coupling that was issued on Jaro International in the US and Top Rank in the UK and was, consequently, his most famous recordings on this side of the pond. 'What Am I' is a torrid rocker but its significance pales when Bob enters the phone booth again to bellow 'Your Line Was Busy' accompanied by a fluent guitarist and invoke the names of Chuck Berry and Elvis.
Despite the sound quality on one or two tracks, congratulations are in order to Bob Fisher, Robin Gosden and all at Jasmine Records for producing this wonderful CD.
Dave Penny
ALABAMA MIKE: Hip You To My Blues
Big Tone Records 246 (48:00)
Black Cadillac/ I'm Selfish/ California Blues/ Frustrate My Life/ 20% Alcohol/ Diabetic Man/ Cut That Out/ How You Want Your Rollin Done?/ V-8 Ford Blues/ Hip You To My Blues/ Stop Accusing That Woman/ I'm In Love With A Woman/ Hello Central/ Keep My Grave Clean/ I Feel So Good
It was a surprise to learn about a new release by Alabama Mike (real name Michael A. Benjamin) on Big Jon Atkinson's new label. Alabama Mike's earlier recordings, such as those with The Andy T Band in 2017's 'Double Strike,' often displayed a gospel-rooted vocal style in the manner of Little Johnnie Taylor. 
This new release finds him in a down-home blues vein with a dose of Lightnin' Hopkins flavour along with some tracks that evoke early '50s Chicago style. This recording reflects Alabama Mike's long-burning desire to 'do a record in the classic style of early electric blues pioneers….' 
The backing musicians on this set of retro blues include Kim Wilson on harmonica, Big Jon Atkinson and Danny Michel on guitar, Troy Sandow and Kedar Roy on bass, Joe Lempkowski on harmonica, June Core and Malachi Johnson on drums, Robert Welsh on keyboards, on retro-sounding performances.
Alabama Mike certain invests his vocals with intensity and soul. The Lightnin' Hopkins influence can best be heard on the opening 'Black Cadillac' (with Atkinson on guitar) as well as the revival of Hopkins' 'Hello Central' with Danny Michel on guitar, Kim Wilson on harmonica and Marty Dodson on drums lending the performance a swamp blues flavour. Danny Michel also channels Hopkins guitar on the swampy 'California Blues,' with choice Joe Lempkowski harmonica accompaniment.
A reworking of John Lee 'Sonny Boy' Williamson's 'Cut That Out' sounds like a down-home version of Junior Wells 1950's recording. Kim Wilson is on harmonica, Atkinson on guitar and Dodson on drums. Welsh provides the greasy organ on 'Diabetic Man' with Wilson on the harp. On 'How You Want Your Rollin Done,' Atkinson plays some excellent T-Bone Walker-styled guitar. On Big Bill Broonzy's 'I Feel So Good,' Alabama Mike delivers a strong vocal in the manner of Muddy Waters with J.B. Hutto styled slide guitar in the backing. 'Keep My Grave Clean' is an ingenious band reworking of what was Blind Lemon Jefferson's most famous recording, while the cover of J.B. Hutto's 'Too Much Alcohol' sticks close to the arrangement of Hutto's Delmark recording.
A moody rendition of Willie Love's 'V-8 Ford' with Atkinson and Welsh closes a release of notable down-home blues performances. There are a couple of times the backing may be a tad skeletal, but Alabama Mike's singing and the idiomatic support result in a most entertaining blues album.
Ron Weinstock
 Reverend Robert Wilkins : Prodigal Son
Bear Family BCD16629AH
Robert Cray: In My Soul
Provogue Records
James Armstrong: Guitar Angels
Catfood CFR20
John & Sylvia Embry: Troubles
Delmark 832
Peabody Blues
Nehi 01
Harmonica Shah: Havin' Nothin' Don't Bother Me
Electro-Fi Records 3436
Sorrow Come Pass Me Around: A Survey of Rural Black Religious Music
Dust to Digital DTD-31
Beating the Petrillo Ban: The Late December 1947 Modern Sessions
Ace CDTOP2-1273
Bluesin' By The Bayou
Ace CDCHD 1368